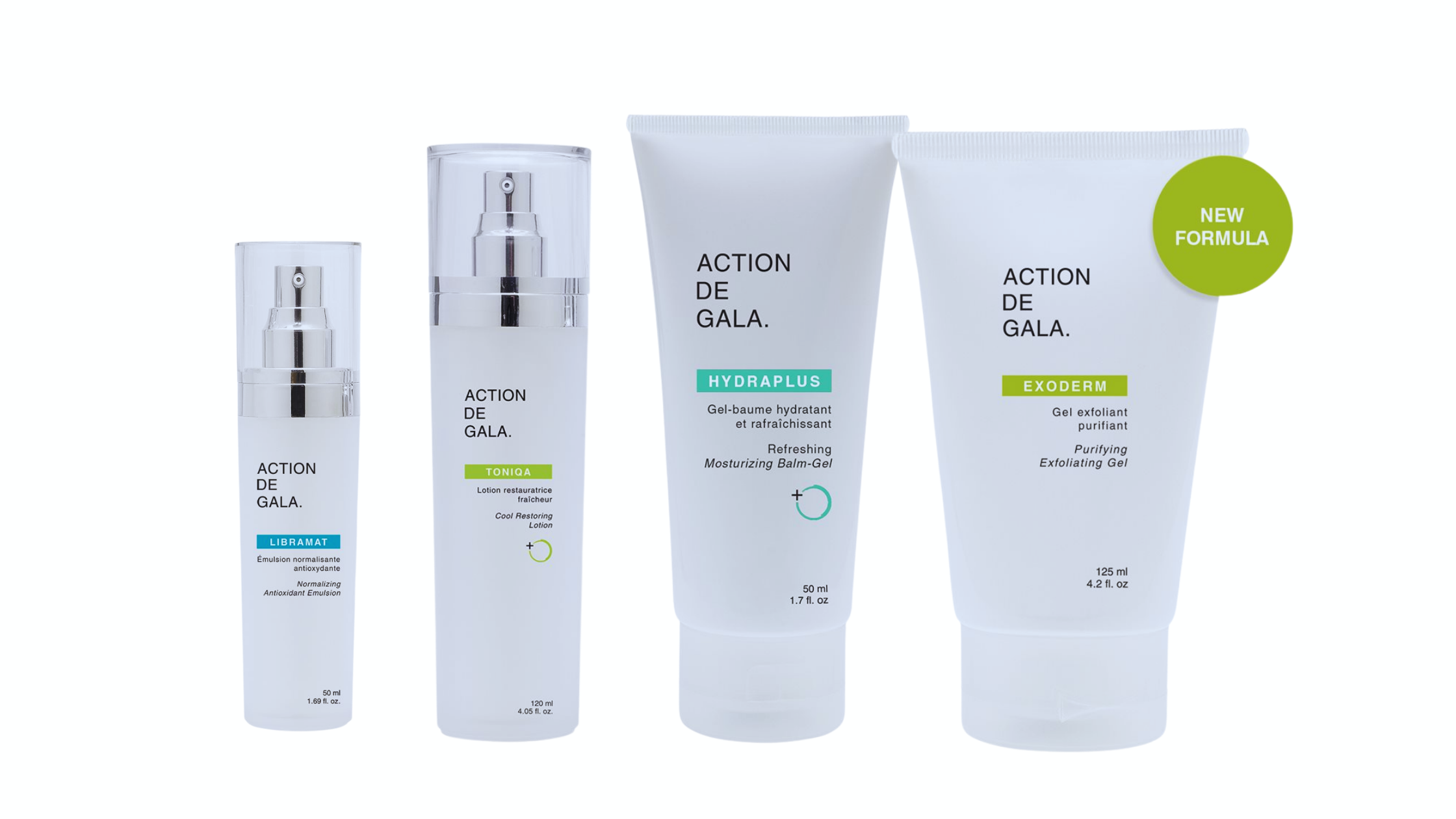 4 Products from Action De Gala
Normalizing Antioxidant Emulsion - Face
Moisturization regulates secretions and protects against oxidation. Libramat protects your skin from harmful external factors like nutrition, lifestyle, environment, etc. 
The ingredients includes green tea extract, essential minerals (selenium and copper), amino acids, vitamin E and titanium dioxide. Mandarin fragrance. Ideal for lipidic, oxidized or asphyxiated skins. Most importantly, it is paraben-free.
Cool Restoring Lotion - Face and body
Toniqa refreshes the skin, reduces the appearance of redness and helps restore the skin's natural pH level. When you apply this lotion, it provides a soothing, astringent and purifying effect.
On top of that, this product is formulated with allantoin, zinc, chamomile, cucumber and calendula. These are highly recommended for use in aesthetic, microdermabrasion and electro epilation treatments. Above all, this is great for all skin types.
Refreshing Moisturizing Balm-Gel - Face and body
Hydraplus provides a calm, refreshing and moisturizing effect to the skin. It also provides an astringent effect. This is ideal for soothing irritated or sensitive skin, minor burns and puffy eyes. 
In addition, it is formulated with allantoin, witch hazel, aloe vera and cucumber, and is highly recommended after microdermabrasion and electro epilation. This is great for all skin types and paraben-free.
Purifying Exfoliating Gel - Face and Body
This purifying exfoliating gel deep cleans the skin by eliminating impurities and dead skin cells. It clears up the complexion, stimulates and provides added softness. Due to this, it prepares the epidermis for aesthetic and hair removal treatments. 
This gel is formulated with algae, hibiscus, pineapple, grapefruit, olive pits and lemon essential oil. This is good for all skin types and paraben-free.
These four products enables you to strengthen your skincare routine. But remember to check your skin type first.
Select products that are safe for your skin type and sensitivity, and always read labels. In addition, understand what the ingredients are for and research whether it will work for your skin type.